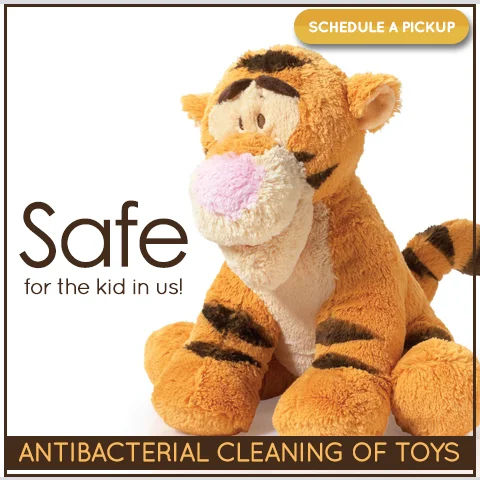 ---
Toy Cleaning Service
Babies explore their environment by touching and tasting and will drool on toys or put them in their mouth. They then harbor germs and needs to be cleaned to destroy them, especially fabric toys. This step is even more important if your kid is recovering from an illness. 

At SPIN CYCLES, we clean fabric toys and stuffed toys with the knowledge that your loved one will be snuggling and cuddling up with them. The importance is given to antibacterial agents and high-temperature drying to get rid of the germs. 

Please note that battery-operated toys will not fare well in dry clean or wet wash and hence we do only spot cleaning of these toys where possible.
 
TOY CLEANING AT YOUR CONVENIENCE

Ratings & Reviews (20) 4.7
---
Sridhar Venugopal | 24th August 2019 10:39:33 AM
It was gud. But one of the shirt print was damaged and the zip replacement for a pant is not working again.
Ram | 20th August 2019 08:53:10 PM
Love spincycles for the excellent shoe repair service.
Bhuvaneswaran | 20th August 2019 06:31:23 PM
I am using SPIN CYCLES for last 1 year for dry cleaning all my clothes, really appreciate the service.
Ashok | 20th August 2019 06:30:02 PM
Best dry cleaning Service in Bangalore...
Murugesh Shamy | 20th August 2019 05:14:14 PM
Excellent laundry service i haven been using Spincycles for 3 years
Murugesh Shamy | 20th August 2019 03:20:57 PM
Kiran Kumar Chandrasekeran | 18th August 2019 08:56:14 PM
Excellent laundry service in sarjapur.
Narendra | 16th August 2019 08:53:56 PM
Sridhar Venugopal | 16th August 2019 01:58:50 PM
Ankur | 13th August 2019 09:05:34 PM
sharbari | 11th August 2019 06:23:51 PM
Priyanka | 10th August 2019 08:42:45 PM
Can improve the app service. Even when I select express 1 day it places the order for 2 day. Please also not allow pickup dates on your holidays. Currently it is possible to select
David Joseph | 7th August 2019 10:31:39 AM
Abdul | 4th August 2019 12:29:50 PM
Ashish Jhaveri | 3rd August 2019 09:51:33 AM
It was awesome. Thank you
Meeta Shukla | 3rd August 2019 09:23:40 AM
Ashish Jhaveri | 3rd August 2019 09:20:55 AM
Dakshi Mohanty | 3rd August 2019 09:04:42 AM
TANMAY DAWANE | 3rd August 2019 08:47:26 AM
RAJAN | 3rd August 2019 07:30:56 AM