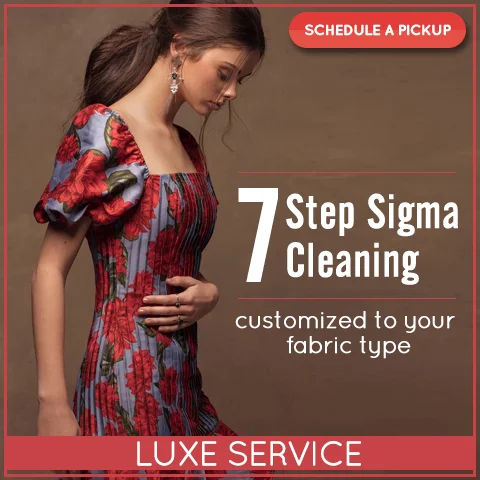 Luxe Service
Our luxe service is apt for cleaning your high-end designer,  couture garments and statement pieces. It's akin to the usage of private jets in aviation travel. From the moment you hand over your item, an expert is assigned and made responsible for the cleaning of our garment.  We custom-treat your garment based on the fabric, design work and the cleaning it requires.  
Any stains are spot treated and cleaned. Care is provided to each part of the garment: sequins, pearls and beads are air-brushed and cleaned. Buttons and buckles are cleaned and treated against rusting and are polished.
 Following cleaning, the garment is steam pressed using form finishers. We use form finishers for two reasons - 1. To avoid any creases 2. To deliver optimum, controlled heat.  
They are then packaged in steel hangers and dust proof covers and sent to you. 
Expert chosen fabric care
Stain & Spot Treatment
Form Finisher used (no packaging creases
Delivered in Hangers
Travel/Wardrobe friendly packaging perfect for Suits, Gowns & Designer wears
Starch, optical brightening, softening as required

LUXE CLEANING AT YOUR CONVENIENCE

Ratings & Reviews (15379)View All 4.9
---
Aashray Makkar | 28th November 2023 08:31:46 PM
Deepak | 28th November 2023 07:42:19 PM
Farah | 28th November 2023 06:13:46 PM
Ramya Sreejith | 28th November 2023 06:04:32 PM
Himanshu | 28th November 2023 05:19:24 PM
Anoop Joshi | 28th November 2023 05:05:22 PM
Suhashini Tiwari | 28th November 2023 05:01:52 PM
Mohammed Zachriyya | 28th November 2023 04:40:26 PM
MAHADEVA | 28th November 2023 04:14:10 PM
Anish Kumar | 28th November 2023 03:32:43 PM