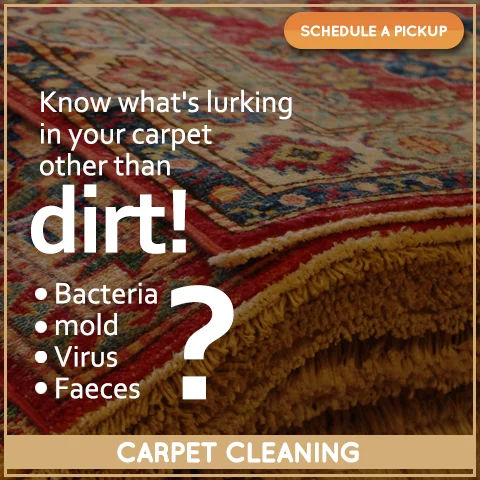 ---
Carpet Cleaning Service
The plush carpets at your home can attract a ton of dust mites, germs and bacteria. Even a carpet that is vacuumed regularly might not be safe and healthy for your kids to play on. We have a suite of carpet cleaning services suited to most of the common fabrics of carpets from synthetic non woven fibres to persian rugs.
We use professional carpet cleaning techniques that is custom-suited to your carpet like steam or hot water extraction, carpet shampooing, foam based cleaning and extraction and dry carpet cleaning (dry cleaning of carpets). We also use a combination of these depending on how soiled your carpet is. 
Our carpet cleaning machines operate at around 92 degrees centigrade and most bacteria that are harmful to humans are killed at between 63 to 66 degrees. This method also clean out dust mites, pollen, insect body parts, animal fur that has been walked in from outside and any vomit, urine, faeces and other impurities that could be present from pets, children or unwell family members.
It is recommended that you air your carpets for 24 hours following cleaning.
CARPET CLEANING SERVICE AT YOUR CONVENIENCE

Ratings & Reviews (20) 4.7
---
Sridhar Venugopal | 24th August 2019 10:39:33 AM
It was gud. But one of the shirt print was damaged and the zip replacement for a pant is not working again.
Ram | 20th August 2019 08:53:10 PM
Love spincycles for the excellent shoe repair service.
Bhuvaneswaran | 20th August 2019 06:31:23 PM
I am using SPIN CYCLES for last 1 year for dry cleaning all my clothes, really appreciate the service.
Ashok | 20th August 2019 06:30:02 PM
Best dry cleaning Service in Bangalore...
Murugesh Shamy | 20th August 2019 05:14:14 PM
Excellent laundry service i haven been using Spincycles for 3 years
Murugesh Shamy | 20th August 2019 03:20:57 PM
Kiran Kumar Chandrasekeran | 18th August 2019 08:56:14 PM
Excellent laundry service in sarjapur.
Narendra | 16th August 2019 08:53:56 PM
Sridhar Venugopal | 16th August 2019 01:58:50 PM
Ankur | 13th August 2019 09:05:34 PM
sharbari | 11th August 2019 06:23:51 PM
Priyanka | 10th August 2019 08:42:45 PM
Can improve the app service. Even when I select express 1 day it places the order for 2 day. Please also not allow pickup dates on your holidays. Currently it is possible to select
David Joseph | 7th August 2019 10:31:39 AM
Abdul | 4th August 2019 12:29:50 PM
Ashish Jhaveri | 3rd August 2019 09:51:33 AM
It was awesome. Thank you
Meeta Shukla | 3rd August 2019 09:23:40 AM
Ashish Jhaveri | 3rd August 2019 09:20:55 AM
Dakshi Mohanty | 3rd August 2019 09:04:42 AM
TANMAY DAWANE | 3rd August 2019 08:47:26 AM
RAJAN | 3rd August 2019 07:30:56 AM