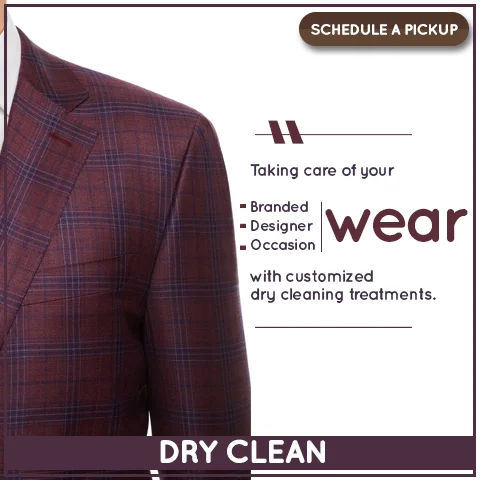 ---
Dry Cleaning Service
Dry cleaning service is the most popular service for cleaning your silks, woolens, wedding outfits and designer wear. With dry cleaning, plain water is not used as a cleaning medium, instead, hydrocarbons or other green chemicals are used to clean your clothes. Unlike possible carcinogens like perc, we use skin friendly and environment-friendly cleaning process.
Stain removal is also a part of our dry cleaning service. Note that stain removal is tricky and depends on a variety of factors like staining agent, duration of stain and heat exposure, underlying fabric quality etc.
Quilt cleaning and duvet cleaning is also part of this service. Dry cleaned clothes are then steam pressed and packed in a travel and wardrobe friendly packaging.
Stain & spot treatment
Skin friendly solvent
Color fastening
Starch as required
Perfect for silks, woolens, designer wears
Travel/Wardrobe friendly packaging
Travel & Steam Press
DRY CLEANING AT YOUR CONVENIENCE


We have other services available with us which will help you to take care of your belongings. 
 
Ratings & Reviews (13860)View All 4.9
---
Anitha Rahul | 29th September 2023 01:08:53 AM
Shivani | 28th September 2023 09:41:08 PM
VATSALA | 28th September 2023 06:12:18 PM
madhusudhan | 28th September 2023 04:58:36 PM
Srinivas Sampath | 28th September 2023 03:23:03 PM
Namrata | 28th September 2023 12:33:08 PM
Santosh Kumar | 28th September 2023 12:08:41 PM
shubham maddhashiya | 28th September 2023 10:24:22 AM
Surashmi | 28th September 2023 08:35:32 AM
Niket Kumar | 28th September 2023 01:44:05 AM