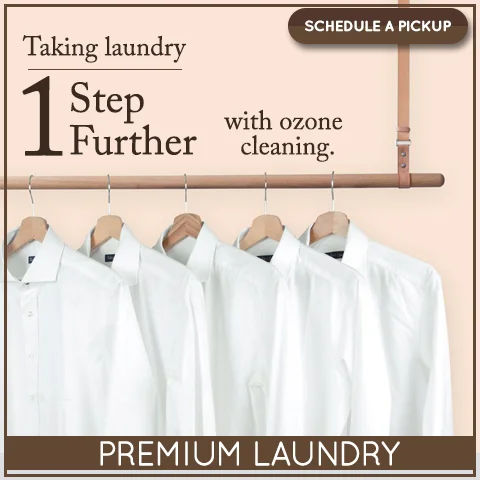 ---
Premium Steam Ironing service
Frustrated with the inconsistent ironing services provided locally? Does the garments fall into a crumpled heap when you try to take your preferred shirt out to wear for the day?
With premium ironing services from SPIN CYCLES, you get to avail the following benefits: we use  controlled, optimum steam as opposed to unregulated heat from coal or iron to press your garments.  This ensures that delicate garments like silk, chiffon etc does not lose their tensile strength. Lower heat is required for delicates and higher temperature heat is required for cottons, linens, denims etc. 
As part of this steam press, jackets, blazers - items that do not need creases are form finished and packed in hangers. 
The garments are provided with back support to ensure that the ironing is not compromised when you take the item out from your wardrobe. A dust cover is also provided as part of this service.  
 
PREMIUM STEAM IRONING AT YOUR CONVENIENCE

Ratings & Reviews (20) 4.7
---
Sridhar Venugopal | 24th August 2019 10:39:33 AM
It was gud. But one of the shirt print was damaged and the zip replacement for a pant is not working again.
Ram | 20th August 2019 08:53:10 PM
Love spincycles for the excellent shoe repair service.
Bhuvaneswaran | 20th August 2019 06:31:23 PM
I am using SPIN CYCLES for last 1 year for dry cleaning all my clothes, really appreciate the service.
Ashok | 20th August 2019 06:30:02 PM
Best dry cleaning Service in Bangalore...
Murugesh Shamy | 20th August 2019 05:14:14 PM
Excellent laundry service i haven been using Spincycles for 3 years
Murugesh Shamy | 20th August 2019 03:20:57 PM
Kiran Kumar Chandrasekeran | 18th August 2019 08:56:14 PM
Excellent laundry service in sarjapur.
Narendra | 16th August 2019 08:53:56 PM
Sridhar Venugopal | 16th August 2019 01:58:50 PM
Ankur | 13th August 2019 09:05:34 PM
sharbari | 11th August 2019 06:23:51 PM
Priyanka | 10th August 2019 08:42:45 PM
Can improve the app service. Even when I select express 1 day it places the order for 2 day. Please also not allow pickup dates on your holidays. Currently it is possible to select
David Joseph | 7th August 2019 10:31:39 AM
Abdul | 4th August 2019 12:29:50 PM
Ashish Jhaveri | 3rd August 2019 09:51:33 AM
It was awesome. Thank you
Meeta Shukla | 3rd August 2019 09:23:40 AM
Ashish Jhaveri | 3rd August 2019 09:20:55 AM
Dakshi Mohanty | 3rd August 2019 09:04:42 AM
TANMAY DAWANE | 3rd August 2019 08:47:26 AM
RAJAN | 3rd August 2019 07:30:56 AM