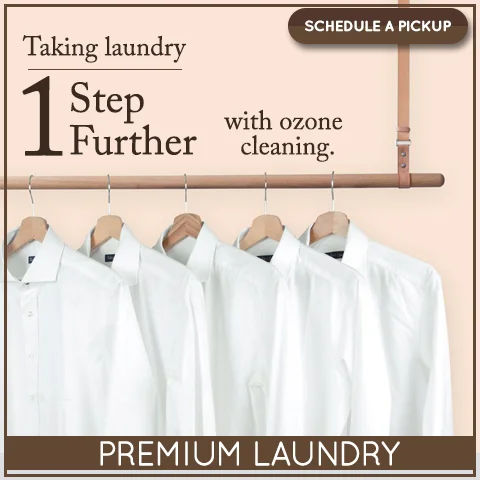 ---
Premium Laundry Service
Premium laundry service is aptly suited for home linen cleaning like bath towels, bed linens, blankets, pillows, throws, cushions, etc. 
It is also well suited for your crisp white shirts, dhothis, cotton sarees and kurtas. We use oxygen bleach to remove tough stains from fabrics and optimum dosage of organic starches to ensure stiffness.  
Premium laundry service employs enzyme presoak for tough dirt, uses optimum temperature, antibacterial, bioorganic detergent based wash cycle, fabric softeners and brighteners and neutralizer during the rinse cycle to ensure healthy cleaning. The clothes are then steam pressed and presented in a travel-friendly packaging. The packaging ensures that the clothes are not crumpled while making your wardrobe decisions. 
Enzyme presoak for tough dirt
High-temperature RO treated water
Antibacterial, bioorganic detergent
Oxygen Bleaches
Optimum starch where required
Vacuum steam press
Travel & Wardrobe friendly packaging
 If you are looking for a laundry service nearby your location check here.
PREMIUM LAUNDRY SERVICE AT YOUR CONVENIENCE

Ratings & Reviews (15379)View All 4.9
---
Aashray Makkar | 28th November 2023 08:31:46 PM
Deepak | 28th November 2023 07:42:19 PM
Farah | 28th November 2023 06:13:46 PM
Ramya Sreejith | 28th November 2023 06:04:32 PM
Himanshu | 28th November 2023 05:19:24 PM
Anoop Joshi | 28th November 2023 05:05:22 PM
Suhashini Tiwari | 28th November 2023 05:01:52 PM
Mohammed Zachriyya | 28th November 2023 04:40:26 PM
MAHADEVA | 28th November 2023 04:14:10 PM
Anish Kumar | 28th November 2023 03:32:43 PM