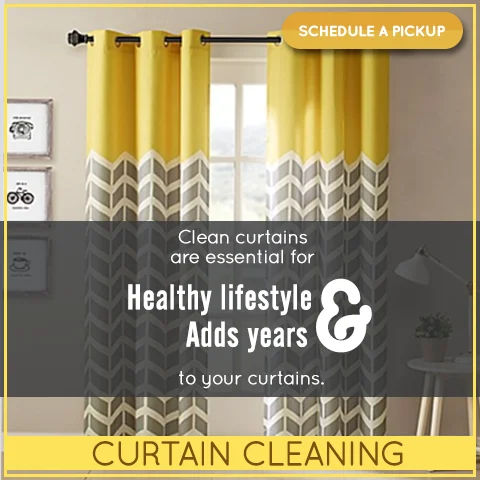 ---
Curtain Cleaning Service
A good rule of thumb is to clean your blinds, curtains and drapes every 2 months. Exposing your sheer drapes to sunlight can make the pleats susceptible to damage. Ensure that you dry clean your curtains the first time. Subsequent cleaning can be wet or dry clean depending on the fabric type. Only linen, cotton and polyester curtains can be wet cleaned; silk, brocade, tissue curtains are only to be dry cleaned. 

If you need help removing your drapery, please let us know beforehand at the time of booking your pickup. Also, mention if you would like your curtains pleated and ironed in order to hang them conveniently. As a rule, if pleats are present, we pleat-iron the curtains, else flat-iron them.
CURTAIN CLEANING AT YOUR CONVENIENCE

Ratings & Reviews (10480)View All 4.9
---
Exceptional service and very polite, specifically Mr Gajanand polite attitude.
Somjit | 30th March 2023 08:50:22 PM
SayedJamil Nayer | 30th March 2023 07:34:58 PM
GEETHANJALI | 30th March 2023 06:01:50 PM
amritha | 30th March 2023 05:52:16 PM
Dinesh | 30th March 2023 05:28:14 PM
Sony | 30th March 2023 04:14:49 PM
Akshan Barla | 30th March 2023 04:14:35 PM
Jayesh Goel | 30th March 2023 03:05:16 PM
Awesome experience...and so economical
Meera M | 30th March 2023 02:17:36 PM
Sruthi | 30th March 2023 01:13:12 PM