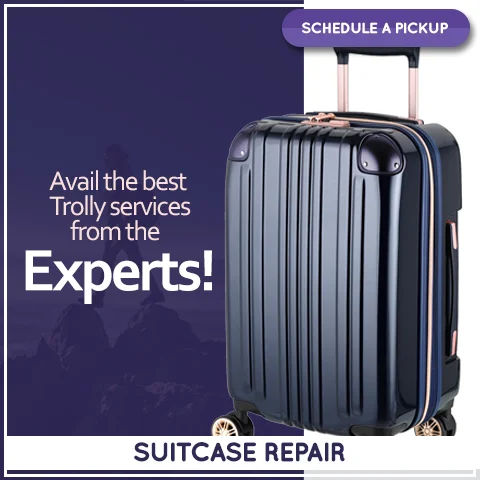 ---
Trolley/Suitcase Cleaning and Repair Service
Bangalore's frequent business travelers will understand how bruised a suitcase can become after a couple of flights. Some of the common problems with suitcases include loss of wheels, trolley not working, trolley handles not working, zip repair, etc. 
Our suitcase repair services cover most of the common problems you face with suitcases before you travel. We do trolley wheels change, handle replacement,  zip, and runner replacement, lock change and even small patchworks and stitching works.
 
TROLLEY/SUITCASE CLEANING AND REPAIRS AT YOUR CONVENIENCE

Ratings & Reviews (7989)View All 4.8
---
Very good service. Prompt pickup , on date delivery . Very smooth process. And very happy with the cleanliness and delivery packaging.
Swati | 28th November 2022 09:01:26 PM
Good service, nice coordinator by Store manager, only hoping they continue this service quality .
Rohit | 28th November 2022 08:52:12 PM
CANNAICK | 28th November 2022 07:57:23 PM
D Suresh Kumar | 28th November 2022 07:51:32 PM
Harish Kumar | 28th November 2022 07:03:03 PM
Komal | 28th November 2022 06:52:56 PM
kumar | 28th November 2022 03:06:13 PM
Good quality dry cleaning. Delivery was delayed though
Shubhang Vikas | 28th November 2022 01:24:33 PM
Poornima B | 28th November 2022 12:44:07 PM
Dhiven Sahoo | 28th November 2022 12:41:10 PM