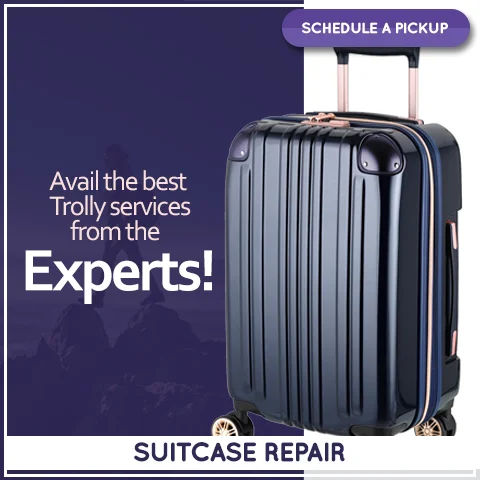 ---
Trolley/Suitcase Cleaning and Repair Service
Bangalore's frequent business travelers will understand how bruised a suitcase can become after a couple of flights. Some of the common problems with suitcases include loss of wheels, trolley not working, trolley handles not working, zip repair, etc. 
Our suitcase repair services cover most of the common problems you face with suitcases before you travel. We do trolley wheels change, handle replacement,  zip, and runner replacement, lock change and even small patchworks and stitching works.
 
TROLLEY/SUITCASE CLEANING AND REPAIRS AT YOUR CONVENIENCE

Ratings & Reviews (10480)View All 4.9
---
Exceptional service and very polite, specifically Mr Gajanand polite attitude.
Somjit | 30th March 2023 08:50:22 PM
SayedJamil Nayer | 30th March 2023 07:34:58 PM
GEETHANJALI | 30th March 2023 06:01:50 PM
amritha | 30th March 2023 05:52:16 PM
Dinesh | 30th March 2023 05:28:14 PM
Sony | 30th March 2023 04:14:49 PM
Akshan Barla | 30th March 2023 04:14:35 PM
Jayesh Goel | 30th March 2023 03:05:16 PM
Awesome experience...and so economical
Meera M | 30th March 2023 02:17:36 PM
Sruthi | 30th March 2023 01:13:12 PM