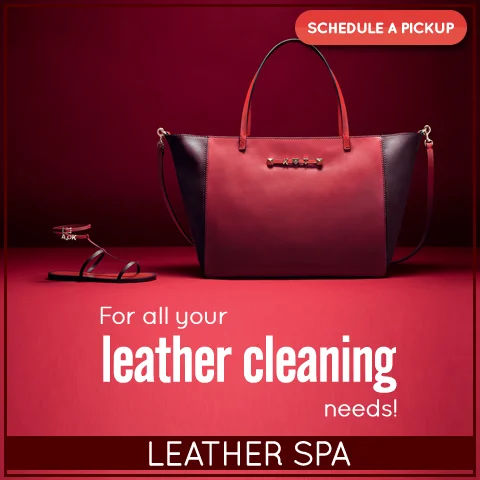 ---
Leather Cleaning Repair Service
As genuine leather is an organic protein-based natural material, the same cleaning methods used for other garments do not apply here. 
Leather bags, wallets, purses, shoes are prone to stains and heavy dirt as they are used regularly and in outdoors frequently. SPIN CYCLES' quality leather cleaning service ensures that the nature of the material is not compromised during the cleaning process. We also do leather conditioning to get the shine and fresh look back to your leather items following cleaning. 
Please note that fake leather or faux leather, unlike real leather tends to break and crumble with frequent usage. When this happens, please check if our bag repair services will be suitable for you. 
We also dry clean leather jackets, leather pants and other leather-based accessories like leather sofa covers, leather bean bags, etc. 
We also clean various types of leather like suede, nubuck and patent leather.
 
  LEATHER CLEANING SERVICE AT YOUR CONVENIENCE

Ratings & Reviews (20) 4.7
---
Sridhar Venugopal | 24th August 2019 10:39:33 AM
It was gud. But one of the shirt print was damaged and the zip replacement for a pant is not working again.
Ram | 20th August 2019 08:53:10 PM
Love spincycles for the excellent shoe repair service.
Bhuvaneswaran | 20th August 2019 06:31:23 PM
I am using SPIN CYCLES for last 1 year for dry cleaning all my clothes, really appreciate the service.
Ashok | 20th August 2019 06:30:02 PM
Best dry cleaning Service in Bangalore...
Murugesh Shamy | 20th August 2019 05:14:14 PM
Excellent laundry service i haven been using Spincycles for 3 years
Murugesh Shamy | 20th August 2019 03:20:57 PM
Kiran Kumar Chandrasekeran | 18th August 2019 08:56:14 PM
Excellent laundry service in sarjapur.
Narendra | 16th August 2019 08:53:56 PM
Sridhar Venugopal | 16th August 2019 01:58:50 PM
Ankur | 13th August 2019 09:05:34 PM
sharbari | 11th August 2019 06:23:51 PM
Priyanka | 10th August 2019 08:42:45 PM
Can improve the app service. Even when I select express 1 day it places the order for 2 day. Please also not allow pickup dates on your holidays. Currently it is possible to select
David Joseph | 7th August 2019 10:31:39 AM
Abdul | 4th August 2019 12:29:50 PM
Ashish Jhaveri | 3rd August 2019 09:51:33 AM
It was awesome. Thank you
Meeta Shukla | 3rd August 2019 09:23:40 AM
Ashish Jhaveri | 3rd August 2019 09:20:55 AM
Dakshi Mohanty | 3rd August 2019 09:04:42 AM
TANMAY DAWANE | 3rd August 2019 08:47:26 AM
RAJAN | 3rd August 2019 07:30:56 AM