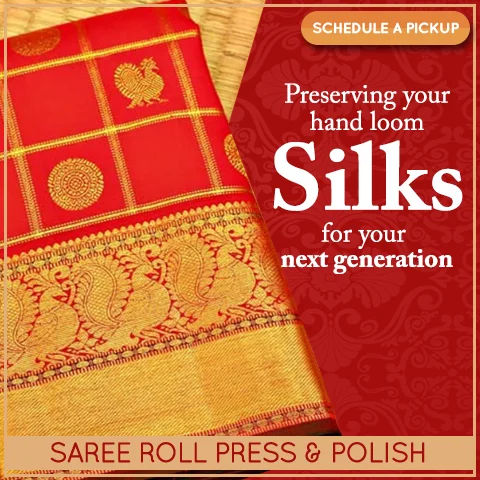 Saree Cleaning and Saree Roll Press Service
We understand that silk sarees tend to be heirloom pieces and have an emotional value quite incomparable to its purchase price. With that in mind, SPIN CYCLES has introduced India's first automatic roll press and polishing service to take care of the different sarees, dhotis, dupattas, etc. 

As part of the saree roll press - each part of the saree is brought into contact with heat for exactly 2 seconds only along felt lined calendars. Silks are natural fibers and lose its strength with exposure to long-time and unwanted high-temperature heat. Bearing this in mind, heat contact has been reduced to the lowest possible 2 seconds.
Compare this to your local dhobiwala, who will iron each fold back and forth, multiple times. Folds are not pressed at SPIN CYCLES. Sharp creases have a high possibility of tearing along the edges when your sarees are stored in your wardrobe for a length of time.  We do pay attention to these small but important factors as part of our saree roll press service.

SAREE ROLL POLISH CLEANING AT YOUR CONVENIENCE

Ratings & Reviews (13861)View All 4.9
---
SURABHI JAIN | 29th September 2023 08:23:49 AM
Anitha Rahul | 29th September 2023 01:08:53 AM
Shivani | 28th September 2023 09:41:08 PM
VATSALA | 28th September 2023 06:12:18 PM
madhusudhan | 28th September 2023 04:58:36 PM
Srinivas Sampath | 28th September 2023 03:23:03 PM
Namrata | 28th September 2023 12:33:08 PM
Santosh Kumar | 28th September 2023 12:08:41 PM
shubham maddhashiya | 28th September 2023 10:24:22 AM
Surashmi | 28th September 2023 08:35:32 AM